Tub to Shower Conversion Options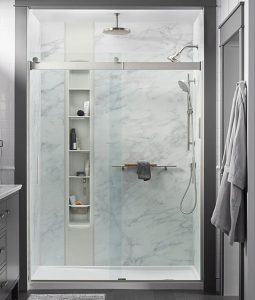 A tub to shower conversion can enhance the functionality and appearance of your bathroom, but it is essential to choose the right contractor to complete the project. This decision is simple if you live in the Washington, DC area – rely on Remodel USA's expertise. This level of trust we maintain with our customers is a product of our extensive experience in the field, which dates back to when we first opened for business in 1999. Over the years, we have established a reputation for completing stellar work with a combination of speed and precision. In fact, we often complete bathroom remodels – including converting tubs into showers – in a matter of only a few days, rather than over a span of weeks.
Our capable installers can help you experience all of the ways in which one of our new showers can enhance the bathroom in your home. Just imagine enjoying the following benefits:
Easy access – With their lower thresholds, our showers are generally easier to enter than a traditional bathtub. This feature is particularly important for those with accessibility concerns, but everyone can enjoy not having to step over a high wall to get clean.
Convenience – Replacing your tub with one of our showers can be more convenient for daily use than tubs. You simply may not have the time to take a bath every day.
Appealing aesthetic – A new shower surround can give a bathroom more of a modern appearance than a new bathtub, making it an excellent alternative to purchasing a traditional tub.
Contact Remodel USA today for more information about our tub to shower conversion service and the products that we utilize. Also, feel free to ask about the additional home improvement services that we offer throughout Washington, DC metro area, including top-to-bottom bathroom remodeling renovations.