Add Safety and Style to Your Home With a Tub to Shower Conversion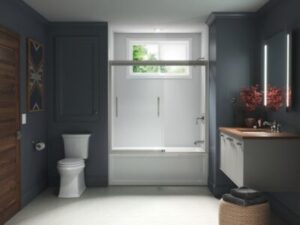 In many cases, traditional bathtub/shower combos do not mesh with the lifestyle of a modern person. Whether you're one of the many people who prefer showers to baths, or if you or a loved one has mobility restrictions that make it difficult to get in and out of traditional tub/shower combos, that old dingy tub isn't going to work. If your outdated bathtub has become an inconvenience and an eyesore, Remodel USA is here to remind you that you have options.
Converting your cumbersome old bathtub to a walk-in shower will not only make your bathroom space feel more open and inviting, but will also make it much safer and easier to enter and exit the bath.
Beautiful Custom Tub to Shower Conversions
While there may be other companies that offer tub to shower conversions, there are many reasons why Remodel USA's products and services are superior. It all starts with the materials we use. We install KOHLER® LuxStone showers in all our tub-to-shower conversions because they are unmatched in value, durability, and longevity.
KOHLER LuxStone® showers feature unique wall surrounds made of crushed stone in different patterns ranging from traditional to modern styles. We offer further customization options such as your choice of showerheads, shower doors, storage accessories, and more. We can even install safety features such as built-in seating or grab bars to help provide ultimate comfort and peace of mind.
At Remodel USA, one of our shower design experts will work with you to determine your needs and create a shower that makes it easy to get up in the morning.
Schedule a No-Cost Design Consultation Today
Here at Remodel USA, our goal is to make the bathtub-to-shower conversion process as quick and simple as possible, while also providing you with a walk-in shower that meets your exact aesthetic and performance needs. Our tub-to-shower conversion experts can complete this process in as little as one day in many cases. Contact us today to schedule a no-cost design consultation!