Bath & Shower Remodeling: Your Pricing & Installation Guide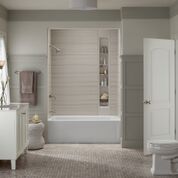 Remodeling your bathroom is a major investment, so you want to be sure that you choose a contractor that offers the best products, straightforward pricing, and skilled installations. Remodel USA meets all of these criteria and more. As the premier bath and shower remodeling company serving Maryland, Virginia, Washington DC, Fairfield County, Connecticut, and Hudson Valley, New York, we proudly provide top-of-the-line Kohler bath systems along with exceptional service, ensuring our customers receive an unparalleled value.
Pricing Your Kohler Shower or Bath
Are you looking for a tub-to-shower conversion or walk-in tub to make bathing safer? Or perhaps you'd simply like a beautifully designed Kohler LuxStone shower to enhance your bathing experience every day. When you partner with Remodel USA, we'll make designing and pricing your new bathing system as easy as possible. As an authorized Kohler dealer, we will perform a comprehensive assessment of your bathroom and thoroughly review all of your shower or bath design options. We will then use your choices to develop a custom quote that accounts for every detail of your remodeling project. There won't be any surprises or changes along the way.
Shower & Bath Installation
At Remodel USA, we make the shower and bath installation process as easy as possible for our customers. Once you've designed your new shower or bath, we'll custom order your products and provide frequent communication to keep you updated. Additionally, unlike with traditional bathroom remodels, you won't have to deal with extended construction timelines that leave you without the use of your bathroom for weeks on end. Our highly experienced, factory-trained technicians will install your new shower or bath in as little as one day. We'll also provide an ironclad warranty, so you can have complete peace of mind in your investment.
For more information about pricing and installation for our bath and shower remodeling services, contact Remodel USA today to schedule your consultation and custom quote.