How To Clean Your Walk-In Shower with Ease
LuxStone's Easy-To-Clean Materials
Your bathroom is supposed to be a relaxing oasis, not a source of added stress. That's why every element of the LuxStone shower system is engineered to make the cleaning process a breeze, saving you time and energy.
The walls are designed to fit seamlessly together without grout, so you can mark scrubbing off your to-do list.
The base aids in keeping your shower clean, too. The recessed drains prevent water pooling that causes soap scum and unsightly rings around the edges of your shower.
Finally, CleanCoat technology is a factory-installed treatment used to keep your glass door clean. You'll love how water quickly beads and runs off treated glass products instead of calcifying on the surface.
What To Gather
With the help of these easy-to-clean materials, you'll find it only takes a few supplies to make your shower shine.
In fact, many of the harsh cleaning chemicals you've accumulated over the years for scrubbing traditional tubs and showers should not be used on your LuxStone shower system.
Here's what to include in your cleaning caddy.
The 4 Cleaning Items You Need:
Damp sponge
Mild detergent or cleaner
Shower squeegee
Soft cloth
Shower Cleaning Tools
You can toss those bristle brushes, abrasive sponges, and sharp instruments! With LuxStone, there's no need to scrub the glass panels or anodized aluminum. Rough shower cleaning tools can actually scratch the glass and metal surfaces.
Opt for gentle tools like a damp sponge to wipe down the shower. It's helpful to have a shower squeegee to clean your glass doors and a soft cloth for the final drying.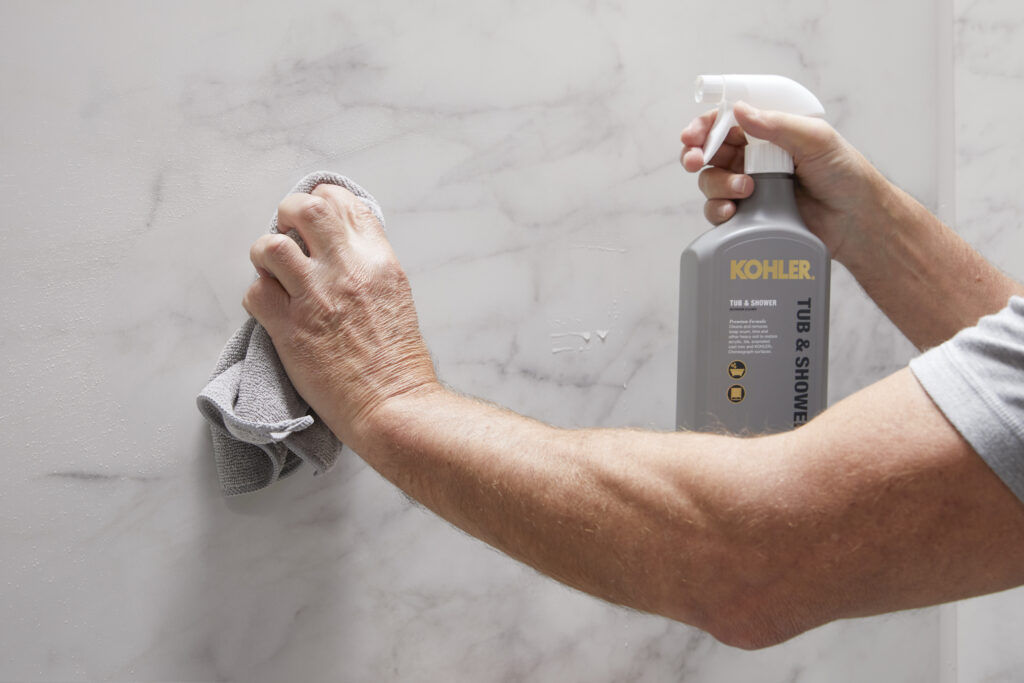 Shower Cleaning Products
There's no need for harsh cleaners containing abrasives, ammonia, bleach, acids, waxes, alcohol or solvents either! In fact, they may damage the finish.
All you'll need is a mild detergent or cleaner. For a quick clean, you may not need a cleaning product at all!
What To Do During Daily Cleanings
We recommend wiping down your LuxStone shower after each use. By taking just a few seconds to do this, you'll keep your shower looking brand new.
First, grab your shower squeegee and swipe over the glass door. This will help prevent water spots from forming. Next, use a soft cloth to wipe down the walls and any remaining wet areas in the shower. By leaving your shower dry, you will prevent soap deposits and lime buildup.
It's that simple! You'll be surprised by how long you can go in between deep cleanings when you've kept up with daily maintenance.
What To Do During Deep Cleans
Less frequently, you'll need to set aside time for a deep clean. Here are pro-tips for each part of your shower—and don't forget to clean your drain!
Tip #1: Cleaning Shower Walls
Using a gentle cleaner such as KOHLER Tub & Shower Cleaner, hold the sprayer 6″ – 12″ from the wall surfaces and spray the area. Start from the bottom and work upward. Wipe the surface with a soft, damp sponge or cloth.
We recommend testing your cleaning product on a small area before applying to the entire surface.
Tip #2: Cleaning Shower Accessories
LuxStone accessories are designed for easy cleaning. Many are adjustable, removable and dishwasher-safe. On anodized aluminum accessories such as the Shower Barre or Floating Shelf, use a cleaner such as the KOHLER Faucet Cleaner to keep them sparkling and spot-free. Simply hold the sprayer 6″ – 8″ from the surface and spray the area. Wipe with a dry towel or cloth. For acrylic accessories such as the Shower Locker, follow the instructions in Tip #1.
Tip #3: Cleaning Faucets
When cleaning your showerheads, hold the KOHLER Faucet Cleaner sprayer 6″ – 8″ from the surface and spray the area. Wipe with a dry towel or cloth. Rub spray face and nozzles with a soft, dampened sponge or cloth. Run the water and repeat if necessary. Steer clear of abrasive cleaners that cause dullness over time.
Tip #4: Cleaning Glass Shower Doors
Finish your deep clean with the glass shower door. Follow the instructions in Tip #3 to keep the glass lustrous and streak-free. To avoid soap deposits or lime buildup in hard water areas, wipe the door dry after each use. Keep the shower door ajar so that air can circulate to reduce mildew growth inside the shower.
Make Your Cleaning Routine Easier
Your LuxStone shower system can be installed in as little as one day! Contact your local KOHLER Authorized Dealer for a free in-home design consultation.